Search

Adventure
Crossover
Human
Random
Sci-Fi
---
When a large nerf war between schools is about to be hosted in a wooded park between them, one of the schools best nerf teams, the Lunar Nightwatch, goes on a recon mission to spy on the enemy. However, on the way to the enemy camp, a mysterious portal opens up and the team goes through. Upon arrival, this band of bronies discovers three things: They're in their favorite TV show, their nerf guns work like real weapons on the creatures of this world, and that they are now the deadliest creatures in that world. What are they gonna do? Read and find out!
A sorta nerf/mlp crossover
Gore
Adventure
Crossover
Dark
Sci-Fi
---
A crossover between Transformers and MLP:FiM.
---
Equestria is in danger once again. Chrysalis, the exiled Changeling queen, has made a deal with a powerful being beyond all imagination: Unicron, The Chaos-Bringer; a terrifying being capable of consuming an entire planet.
This unprecedented threat to Equestria's safety causes the Mane 6 to seek out the help of new allies: Optimus Prime and the Autobots. But will their combined might and heroism be enough to stop Chrysalis's rampage of vengeance, or will Equestria and Earth both fall to the horrors of Unicron?
Human
Sci-Fi
---
Destiny/MLP crossover
Fireteam Odium are sent on a fairly simple sounding mission, only for it to end in disaster. They are thrown into a world that they do not understand, and must now make a decision. Protect the ponies, or work on getting home.
---
I have wanted to write something like this for a very long time and I have now finally gotten around to it

I have a massive amount of experience on Destiny and so I will be using some lore elements, as well as weapons that are only obtained through DLC's. So SPOILER ALERT, don't read this if you have never played the game but want to experience it for yourself.
Rated Teen for swearing and violence. Tags will be added as they are needed.

Comedy
Human
Sci-Fi
---
Stephanie had a secret, a big secret, she had a program that could affect reality, if she knew what she was doing, which she did. Rodney doesn't believe her, not surprising. Steph tries to prove it by sending them into a different universe, but she forgets to bring her laptop along, and quickly realizes that they are stuck.
Now Stephanie and Rodney have to try their best to blend in, at least long enough to find a way back, that is, if they want to go back at all.

Adventure
Alternate Universe
Anthro
Drama
Sci-Fi
---
Spike remembered, he remembered how it was before the exodus, before their deaths, before Equus fell. He was in Equus when it all happened. Afterword, he was put into Celestia's Academy For Future Cosmonauts. He was never actually good at anything in the academy. In fact the only reason he was put in it, graduated, and assigned to the Celestia was because Twilight had essentially been his mother and Shining Armor was the ships captain; but Spike was determined. He promised Twilight that he would find a new home for all Equestrians. Spike had promised her that, and he was going to keep his promise.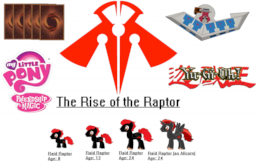 Gore
Adventure
Comedy
Crossover
Dark
Drama
Sci-Fi
---
The backstory of Raid Raptor, the OC of Raptormon132. And his ascension to alicorn status.
Note: Before you go on your pointless, and unjustified hatred on my OC, because of him being a red and black pony, and him being an alicorn (which is one of the things I really hate about the brony fandom), I have to explain a few things. He was not born an alicorn, he was born a pegasus, and later became an alicorn (as you see in the title image). He starts out as red and black, yes, but he changes color later when he becomes an alicorn (as you can also see in the title image). His color changes to Dark gray, and Moderate red and Light brilliant scarlet patterned (which is his final design), and it will explain how as you read this story. In fact the way Raid Raptor's father, Hawk Eye feels about his color before he changes is based on how the fandom views about red and black OCs. I'm hoping that my OC's backstory might put the color scheme of red and black into a different light, since I think the whole red and black hatred is completely bullshit, unjust, and hypocritical since there are a few who have red and black OC's and are quite popular in the fandom, with ToonKriticY2K being one of them.
And also note that my OC's final design is at these two links below.
1. http://raptormon132.deviantart.com/art/Raid-Raptor-The-MLP-OC-of-Raptormon132-563852009
2. http://raptormon132.deviantart.com/art/Raid-Raptor-with-Yu-Gi-Oh-ARC-V-style-Duel-Disk-649871302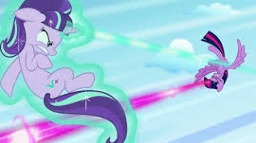 Adventure
Comedy
Sci-Fi
---
[REMEMBER THIS IS ALL FICTION]
During Part 2 of the Season 5 Finale, Twilight Sparkle reenters the past the confront Starlight Glimmer once more after escaping from a changeling-infested future. Twilight then proceeds to try to beat Starlight in a magic battle.
What viewers witnessed were roughly 45 seconds of action that ended with Twilight and Starlight landing back on a cloud, exhausted and out of breath, before hearing an excited cry from filly Rainbow Dash and the other two colts who were watching in excitement, having been distracted from the race.
However, things don't add up at all here. After fighting Tirek in the Season 4 Finale for about the same amount of time and quadruple the magic power, neither were exhausted in any way. Because of this, there should be no way that Starlight and Twilight, two of the most powerful ponies in Equestria, can run out of power in less than a minute. Also, how could all the other fillies be acting excited over watching less than a minute of action?T he answer is simple. They fought for almost an hour, but (thanks to Sweetie Belle's reminder of friendship problems being over in half an hour or so) it had to be shortened to fit the air time. The full fight is available to all to watch....I mean, read...
Note: Twilight and Starlight are really the dominant characters in this...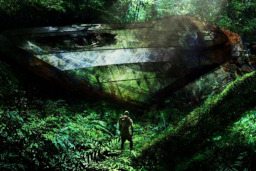 Gore
Adventure
Alternate Universe
Human
Sci-Fi
---
Josh was just trying to do his job. But as usual, they showed up. He had to get out of there. He didn't care where, just anywhere else.
That anywhere else. Is Equestria. A Country on the planet of Terra sapientes. In a galaxy far different from the rest. A galaxy that has never been discovered before.
And honestly? He's seen weirder stuff.
---
Experimenting with title.
You can expect this to be a slow updating story. All chapters are currently self-edited.