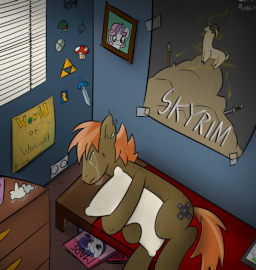 Source
Warning: Sex and Gore tags are for implied Violence and implied sex, there won't be any actual violence and/or explicit sex, the story is rated teen because vulgar language will be a thing in the story.
Button Mash is an adult now, but life didn't go easy on the poor boy, now, he has to revert his past sins by playing a videogame called "Pac-mare: the fault eater", but there is something wrong with this videogame, he just found it under his pillow, and the game knows Button on a personal level, what will happen?
Second warning: Contains subtle hints of Sweetiemash, or Buttonbelle.
Chapters (1)