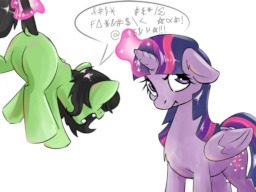 Source
2nd Person
Comedy
Human
Random
---
Rated T for Teletubbies
Definitely not as

stupid

good as "Anon Saves Equestria, er..."
You're Anon, the sole ex-human of Equestria. It has, uh, it's been a couple years now, probably more than you'd like, but still, you're stuck with these horses. Yeah, so stuck, that you asked the nerdiest of all of these freaks to turn you into one. Not going to lie, but you eventually come to regret this.
Now, being a four-legged freak o' nature isn't all bad, what with being able to actually fit in public restrooms and Mint Face no longer interested in jumping your manbits, but even you have to admit, this isn't right.
It seems no matter what you do, life just has a way of dicking you over. In this case, for some reason, you're losing your fucking voice—just not in the way it normally happens.
---
Anon is my spirit animal.
But yeah, this was a friend's idea


Enjoy!