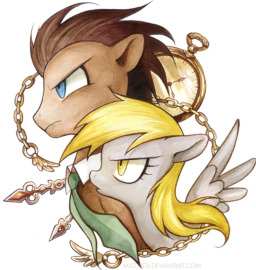 Source
SYNOPSIS:
Equestria is in dire need of a hero. Crime runs wild amongst the streets of Equestria, and not one pony can escape the looming threat of murder, theft, or worse. One day, a mare discovers within the ice a colt frozen in time, and after his recovery from the ice, he is deemed breathing and soon awakes from his coma.
Now lost in time, the Detective Pony walks around Equestria in search of mysteries that have yet to be solved, and with a case as baffling and as dangerous as its name, he races against time to solve it before anypony else is next. With friends along the way, the case of Tempest Shadow doesn't seem as cold as the winter's night.
INSPIRED BY:
Captain America's Ice Coma
Disney's Adaptation of 'The Great Mouse Detective'
Sherlock Holmes series
Black Butler's Book of Murder Story Arc
BLOG CONCERNING UPDATE TIMES:https://www.fimfiction.net/blog/801612/considering-upload-times
Image cover by Miszasta!
Chapters (1)