Search

Alternate Universe
Drama
Sad
Slice of Life
---
Have you ever heard from your parents that your actions have consequences? Well prepare for it to be proven right. As a new school year starts for the quad of friends you all know and love. The other kid's seem afraid of Bumper and like to teased Timothy for the baby incident and for a few new thing's. Now Bumper has to deal with the constant reminder that what he did was truly awful and Timidthy has to deal with insult after insult. Meanwhile French Press and Sweet Dreams want to help their colt friends in any way they can but with Sweet Dreams's she can't seem to keep the teasings away for Timidthy without French Press's support. And French Press can't seem to get Bumper to open up without some advice from Sweet Dreams. With this new school year it spells trouble for everypony.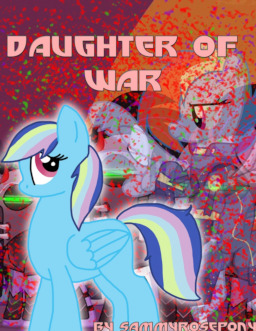 Alternate Universe
Drama
Random
Romance
Sad
---
Takes place in the Sombra Universe from the Season 5 finale
War has taken up the lives of many ponies. One of these ponies being a Pegasus mare named Rainbow Dash. Rainbow Dash, one of the soldiers, meets a stallion by the name of Soarin. They soon become closer and closer as the war goes on. Their relationship results in them marrying each other and having a daughter named Aura Mist.
Unfortunately, due to the circumstances, the two must give up their little filly. They grieve almost everyday for the little girl they could have spent time with. As for the filly herself, Aura Mist is given to a loving family. Although, she does have her curiosities. Where did she come from? How did she get tot his family? Who really are her parents?
Will Aura Mist ever find her real parents? Will Rainbow Dash and Soarin ever be reunited with their little filly?
* Contains some characters from The Next Generation of Harmony
*Yes, Spike and Rarity are married and have a kid in this story. Don't ask how Spike was born and how Him and Rarity met cause the answer I don't even know. I chose a couple from my other story.
Adventure
Alternate Universe
Drama
Romance
---
Applejack and Fluttershy have been together a long time. They have a lot in common, including a mutual love for Everfree. The forest is their home. It had been for centuries, and it would be for as long as they lived.
Or rather, that's what Applejack had thought. But then a pair of traveling griffons began enticing Fluttershy with stories of life outside of the forest. With the draconequus's interests shifting away from Applejack, she takes it upon herself to prove that she's not just a dull forest-dweller.
---
Written as a birthday present for Pasu-Chan, and based on her Noodle AU. Familiarity with the AU shouldn't be necessary, but I'd definitely recommend checking it out for some amazing artwork

Proofread by ArchAngelsWings, mouch30, Mind Jack, and mlptrip
Cover art by mouch30 (or Dessert, as they're know elsewhere), and all internal artwork done by Pasu-Chan.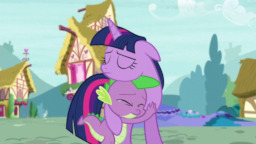 Drama
Sad
Slice of Life
---
After interviewing Lord Tirek in Tartarus, Manehattan news reporter Hot Scoop journeys to Ponyville and interviews Twilight Sparkle and her fellow princesses over the loss of her library during her battle with Lord Tirek.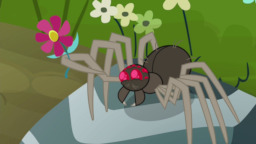 Drama
Slice of Life
---
Spiders. Nightmares on eight scuttling legs. An entire group of creatures so bizarre, menacing, and creepy in their habits that a specific phobia has been dedicated to them. It's proven to be surprisingly popular. Or unpopular, as the case may be.
For Fluttershy, though, there's a lot more to them than that. A friend to all living creatures can hardly discriminate amongst her charges. And surprisingly for her, a day when she devotes her time and energy solely to these alien animals proves to be one of the most enjoyable ones of her week.

Adventure
Drama
---
Twilight Sparkle and her friends begin to suddenly transform into their more powerful selves. Of course, it has to be activated by something, but what does cause them to transform for the first time?
Extra character tags will be added with chapters.
I bumped this up to teen because of certain subjects brought up that could be triggering to some people, but I will provide warnings in author notes.
Alternate Universe
Drama
Romance
---
This story is a sequel to
Son-In-Law of Discord
---
Ever since the defeat of King Sombra, Charming Thunder dreamed of leaving the cathedral at the Crystal Empire and wonders what it is like outside for the first time. Until he met a certain unicorn gypsy that changed his life during the Crystal Fair.
---
Reminder: Songs belong to Disney's The Hunchback of Notre Dame
Flowing Scarf and Silver Shield owned by grl6p
Drama
Romance
---
Troubleshoes makes just enough money to scrape by. It's safe to say that his bad luck of ruining four out of every five meals he tries to make isn't helping, nor is his head feeling any better after accidentally banging it for the thousandth time on his shelf of memoirs. However, in here you will find that both Pinkie Pie and Discord seek to help him take charge and get a sense of control over his bad luck. What begins as simple lessons escalates into deeper connections. Question is, who will win whose heart?
---
Inspired by The Strangest of These and created with direct permission of the author.
Rated Teen for language and possible implications later on.