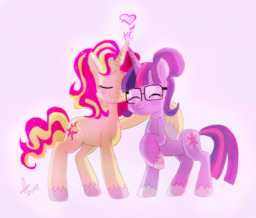 Sunset and Twilight have been together for awhile now, and are in the final preparations for their wedding. However Twilight raises a question that makes Sunset pause, what about Sunset's family from Equestria? So they set out to find out what happened to Sunset's last surviving family member, her little sister.
---
My entry for Oroboro's Sunset Shipping Journeys contest.
Cover made by BlueEmerald333.
Chapters (1)