Search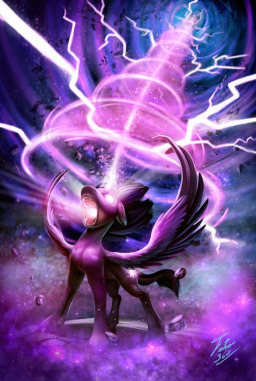 Source
Comedy
Random
---
Twilight Sparkle.
Princess of Friendship, Bearer of the Element of Magic, student to Princess Celestia.
Just how powerful is she? And why is she the best Alicorn princess?
All her greatest foes have the unfortunate pleasure of finding out the answer...
---
Rated T for COMPLETE AND UTTER COMEDIC INSANITY
---
Artwork by Tsitra360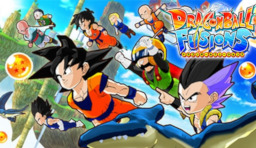 Alternate Universe
Comedy
Crossover
Human
Random
---
Non-Canon side-story to Dragon Ball Super: Equestrian Chronicles. Set in an alternate timeline where the casts of both series are aware of each other.
---
Wothin a pocket dimension, the lands of Equestria and Earth have fused together, bringing together the greatest warriors across time and space to participate in the greatest tournament of all time.
Twilight Sparkle and her friends find themselves scattered, with only the aid of Goku and the Z-Fighters to help them. Now, they must face friends, foes and learn the power of Fusion.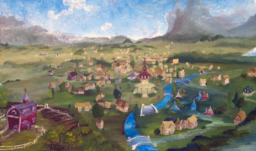 Adventure
Comedy
Romance
---
My days as a college student are over, my life savings are ready to be put to good use, and I've heard of the quaint town of Ponyville. Seemingly quiet and yet still full of life, it seems the perfect place to settle down. Setting up and running my bookshop will surely be plenty of fulfillment; nice and quiet days ahead. The fact that Princess Twilight and the other bearers of the Elements of Harmony live in Ponyville has somehow eluded my thoughts; until it's too late that is. Sure they've saved Equestria many times over and I'm very grateful, but you see, I'm not exactly the most excitable pony around. Well it's not like all of their adventures happened in Ponyville, right?
Dusty Tome's many adventures - and misadventures - during his stay in Ponyville.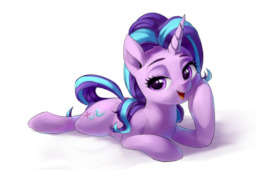 Comedy
Human
Slice of Life
---
Starlight Glimmer has asked you out on a date. But sadly, for her, you're just not that into ponies.
I'm sure this'll have no negative repercussions.
A semi-sequel to "Fluttershy Wants In Your Shirt".
Source
Alternate Universe
Comedy
Slice of Life
---
Sunset's looking forward to a relaxing afternoon in the West Gardens.
Philomena has other plans.
---
Cast: Sunset Shimmer & Philomena with Princess Celestia.
---
Historian's Note:
While Habits is part of the Wavelengths Timeline, knowledge of the series isn't needed to enjoy this tale.
Set in a timeline where the Sonic Rainboom didn't happen, Habits of the Equestrian Phoenix occurs about two years after the events of Grading on a Bell Curve.
---
Stories set in the Wavelengths Timeline in chronological order:
Origins Arc
Habits of the Equestrian Phoenix
How Not To Use Your Royal Prerogative (Coming March 2017)
Applications Arc
The Application of Unified Harmony Magics
Princess Celestia: A Brief History
Infatuations and Other Lies Arc
A Study in Chaos Theory (Coming April 2017)
---
Cover Design by Novel Idea
Sunset Shimmer Cutie Mark By Millennial Dan
Beta Reader & Editor Credits
Ebon Quill - Audio Director & Quest Designer on The Manehattan Project
Little Tinker - Master of Systems at Poniverse & Scripting Engineer on The Manehattan Project
Beltorn - Commenter-at-Large on FimFiction
Painted Heart - Wife of the Author

Word Count: 4,500
Version: 2.0
Adventure
Comedy
Equestria Girls
Random
---
This story is a sequel to
Sunshipped
---
"Um, Sunburst? Look. I was visiting your sister and... uh... things have gotten kiiiiiinda weird. Like, seriously, get ready to be an ape weird."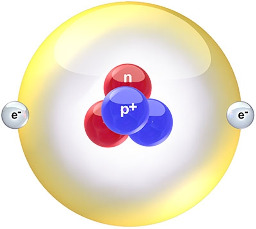 Comedy
Slice of Life
---
Celestium is a miraculous gas. Two neutrons. Two protons. Two electrons. And at least one thaumaton. With it, airships fly.
And so does one clever unicorn colt.
Flying is a cinch.
Landing? Not so much.
An entry in the Weedverse.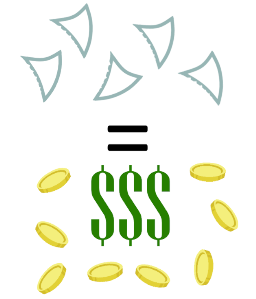 Comedy
Slice of Life
---
After losing her last baby tooth, a young Twilight learns something about dragons from her new adopted brother: apparently, they never stop losing teeth. Naturally, Twilight and Spike decide to milk the Tooth Breezie for all she's worth. After all, the Tooth Breezie never seems to run out of bits while she can never get enough teeth, while Spike can't run out of teeth but can never get enough bits. Win-win. It's a great idea.
So why does Mom look nervous all of a sudden?