Search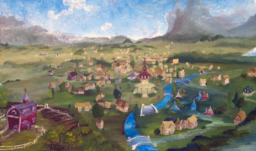 Adventure
Comedy
Romance
---
My days as a college student are over, my life savings are ready to be put to good use, and I've heard of the quaint town of Ponyville. Seemingly quiet and yet still full of life, it seems the perfect place to settle down. Setting up and running my bookshop will surely be plenty of fulfillment; nice and quiet days ahead. The fact that Princess Twilight and the other bearers of the Elements of Harmony live in Ponyville has somehow eluded my thoughts; until it's too late that is. Sure they've saved Equestria many times over and I'm very grateful, but you see, I'm not exactly the most excitable pony around. Well it's not like all of their adventures happened in Ponyville, right?
Dusty Tome's many adventures - and misadventures - during his stay in Ponyville.
Source
Adventure
Alternate Universe
Drama
Romance
---
Applejack and Fluttershy have been together a long time. They have a lot in common, including a mutual love for Everfree. The forest is their home. It had been for centuries, and it would be for as long as they lived.
Or rather, that's what Applejack had thought. But then a pair of traveling griffons began enticing Fluttershy with stories of life outside of the forest. With the draconequus's interests shifting away from Applejack, she takes it upon herself to prove that she's not just a dull forest-dweller.
---
Written as a birthday present for Pasu-Chan, and based on her Noodle AU. Familiarity with the AU shouldn't be necessary, but I'd definitely recommend checking it out for some amazing artwork

Proofread by ArchAngelsWings, mouch30, Mind Jack, and mlptrip
Cover art by mouch30 (or Dessert, as they're know elsewhere), and all internal artwork done by Pasu-Chan.
Adventure
Comedy
Equestria Girls
Random
---
This story is a sequel to
Sunshipped
---
"Um, Sunburst? Look. I was visiting your sister and... uh... things have gotten kiiiiiinda weird. Like, seriously, get ready to be an ape weird."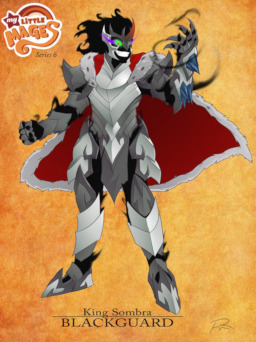 Source
Adventure
Alternate Universe
Dark
Human
---
This story is a sequel to
My Little Mages: The Grand Gala
---
Less than a week has passed since the Grand Gala.
And while everything seems to be normal a long lost city, Krystopolies, has reappeared and so has another old foe of Celestia and Luna, Rey Sombra.
With Shining Armor and Cadance already there and holding back the shadow king, it is up to Twilight and company to find a way to save the residents of Krystopolies and Mystica at large from the fear and hatred of Sombra and his desires to bring the world to absolute order, his order.
Can Twilight and friend best the well-laid plans of Sombra for his return? Will Mystica remain free of Sombra's malice or will Sombra rule them all?
Cover art used with permission by Didji, so support him

Adventure
Drama
---
Twilight Sparkle and her friends begin to suddenly transform into their more powerful selves. Of course, it has to be activated by something, but what does cause them to transform for the first time?
Extra character tags will be added with chapters.
I bumped this up to teen because of certain subjects brought up that could be triggering to some people, but I will provide warnings in author notes.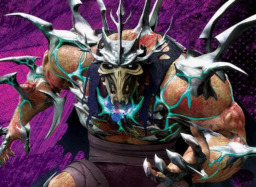 Adventure
Crossover
Equestria Girls
Sad
---
This story is a sequel to
Turtles of Everfree
---
After the death of Master Splinter, the Rainbooms and Turtles team up to take the fight to the Super Shredder with the aim of ending him once again for all to avenge their sensei. Will their combined strength and friendship be enough to overcome the rage and evil of the most powerful mutant they've ever tussled with?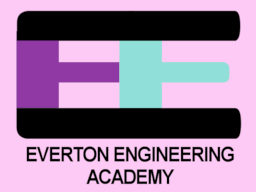 Adventure
Equestria Girls
Sci-Fi
---
This story is a sequel to
Cracks
---
The Regional Science Fair. The five top schools in the region are competing and sending their best and brightest. Among those five are Canterlot High School, Crystal Prep Academy, and the Science Fair's host school, Everton Engineering Academy...the school whose independent study program Twilight Sparkle once applied to.
Twilight Sparkle is among the representatives from CHS attending the Science Fair. Sunset Shimmer and the other girls all have their own things going on and can't be there to cheer her on. It's Twilight's first time away from her new friends since leaving Crystal Prep. At the Science Fair, she runs into some old familiar faces...
...and the most dangerous foe her world has ever faced.
Can Twilight Sparkle and her former schoolmates save the world when the friends she's come to rely on are scattered?
Commissioned through Patreon. Find out how you can commission a story today!

Sex
Adventure
Comedy
Crossover
Human
Romance
---
This story is a sequel to
Discovering Friendship
---
What happens when four super powered teens fall in love with a comic book and decide to make a deal with a God of Chaos and a Princess?
Shenanigans, that's what!
---
Set in the Discovering Friendship Universe, SUPER SERIOUSLY NOT CANON. This entire story is based solely off the fact that I just marathoned Miraculous Ladybug. I do not own any Miraculous Ladybug junk mentioned in this story, nor any My little pony junk mentioned in this story. I only own the Humanized Universe, and barely even that as the original idea came from smilingdogz - I just turned it into something more with permission.
This story will contain
Romance - because Scootabelle
Slice of Life - because we need normal situations to lead towards
Adventure - Because ADVENTURE
Comedy - because laughs, and Pinkie demands at least one appearance per three chapters at least.
and whatever else I tagged this thing as, some tags conflict. Tagged crossover for safety reasons.
And yes, I AM working on the main story and hoping to update soon! These side stories help build ideas for the main story.