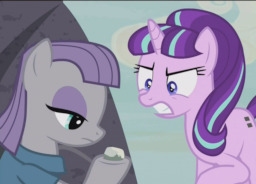 Source
Starlight shares the Our Town gospel with a disinterested Maud, only to get pushy when things don't go her way.
---
My own attempt at answering a question that Maud's and Starlight's first meeting raised: Why in blue blazes didn't Starlight try to recruit Maud to Our Town?
...Which is a thought that I, apparently, am not the first one to have had. Heh.
Chapters (1)