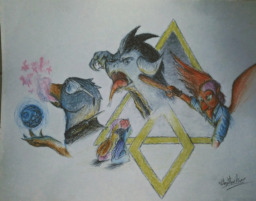 A decade has passed and while Chrysalis perished along with her industrial empire, her two sons were granted to live a, mostly, average childhood. Under the love of their caring father and under the roof of Thorax's new hive, Calyx and Spiracles found themselves busy pursuing their own interests with a fair share of friends, carefree and totally oblivious of their past as heirs of the industrial nightmare every changeling wants to forget.
Unfortunately, as the three spent some time out of the hive, a misunderstanding led to the abrupt arrest of the father. Desperate, the brothers rushed to the woods of Blood Oak in search of the supposed help. Not fully aware that remnants of their true past waited there for them to confront, and some of its strange inhabitants will try to bring the worst out of the two.
---
Edited by: KorenCZ11
Thanks to QueenChrysalisForever for providing the names of the brothers.
Cover art by me.
Chapters (5)