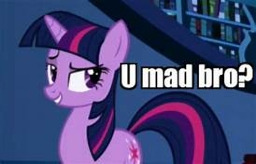 Source
It's a time of crisis and everyone must evacuate Ponyville. Sadly all Twilight can do is watch helplessly as you see, Ponyville is politically correct.
THIS IS A TROLL FIC
THIS IS MADE TO TRIGGER EVERYONE. ENJOY~
Special Snowflake Discretion is advised.
"How dare you assume your readers are special snowflakes!"
Disclaimer: The author does not condone the use of Political Correctness, He does however, find it freaking hilarious. If you take this story as anything but a ridiculous joke to make you laugh, then you are even dumber than the idiot who posted this.
Chapters (1)