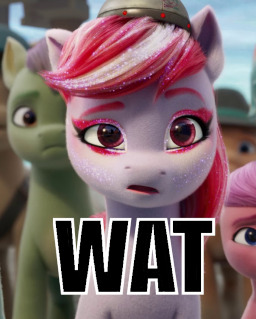 Sugar Moonlight isn't just a pretty muzzle. She was the lead designer for the Canterlogic Impermeable Psychobarricade Skullcap™ (or "anti-mind-reading helmet" to everypony but the marketing team.)
You would think that Sunny Starscout would want nothing to do with her after restoring magic and reuniting the tribes, especially for some important mission out in the middle of nowhere. But even Sugar's never been able to figure out Sunny, and she's been trying for most of her life.
An entry in Shrink Laureate's G5 Bingo Contest and Bicyclette's Sci-Fi Contest. Tied for third place in the former and winner of the Ivory Cedar Committee Award for G5 Is Cool I Guess in the latter. Bingo prompt deliberately omitted from this description to avoid spoilers.
Chapters (1)