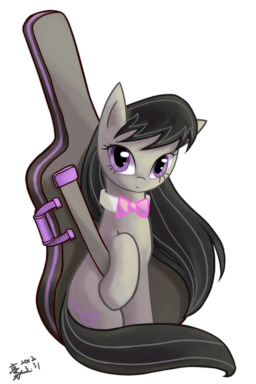 Source
It was a strange urge that caused Octavia to sign up for that blind date program, but now here she was. Literally seconds away from meeting the pony she'd been paired with. She wasn't completely naive, but any dates she'd gone on before had been pre-planned and prepared for.
And she knew who she'd be going with.
And it was rarely anything more than dinner at a moderately fancy restaurant.
If that weren't bad enough, she'd done something during the sign-up that she was regretting and only added more mystery to this meeting. It was pretty easy to see this going south, but...could it also be the start of something beautiful?
Only one way to find out....
*Gulp*
-----
Well! This is something completely different. As a change of pace from my usual Doctor Whooves stuff, I decided to ficenize (That's a word now) an RP I was a part of over on The Fun Has Been Doubled! I should stress that this writing is COMPLETELY from scratch, and will continue to be. I will not copy-paste ANYTHING from the thread, except perhaps a tiny bit of dialogue. Even then I will probably rewrite it just a little bit. I play as Octavia, and back during Valentine's day we had a blind date event, where characters signed up, chose their preferences, and then were randomly matched until it worked. I'll let the story tell you the pairing, and I recommend reading the fic before you go and try to see the thread. As a side note *Advertise advertise*, we over at the site are always looking for new members to play both canon and original characters, and we're really friendly to anons and guests! So feel free to drop by!
Octavia was played by Max Kodan, and the mystery date was played by Coffeefox. Look forward to some wonderful times ahead!!
Chapters (1)