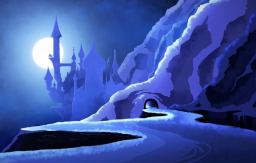 In the middle of the blizzard in the Canterlot Mountains, a lonely mare is found by a dragon. What seems like a coincidence has in fact far deeper meaning as the meeting unravels the stories of passion, friendship, loneliness, lust and caring, all tied up to the group of friends we all know too well.
The young unicorn does not realize that she plays an important part in story far longer and greater than just her own life. She is an unknowing key to the tale of hot romance and cold tears
But as she dives deeper, she becomes curious. Is the situation that she found herself in really just a misfortune ?
Who is her companion ? Why didn't he reveal her name ? And why she has the strangest of feelings: that she knows him from somewhere ?
Follow the passionate, random and dramatic love story of Spike, Rarity and Gabby. Watch as their feelings change the fate of them and ones they love.
Tag "Sex" is used because of the sensual nature of chapter 13. However, the scene is not graphic and vulgar, rather poetic, so that's why I rate it T.
New chapters will be added with regularity, as my life allows, one per one or two weeks. There are 8 chapters left till the end of the story.
Chapters (15)