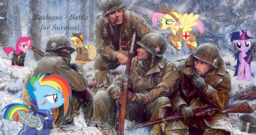 December 19th - 27th, 1944.
Ardennes Forest Region, Belgium.
Germany's Führer was desperate for any positive results to stop both the Allies and Soviets from the West and East, respectively; now, thinking they may break the Allied advance to the Rhine, the Germans try to fight back and retake control of the whole situation. However, it will not turn out well for both sides.
---
The initial German assault takes the Allies by surprise, especially the 101st Airborne, who are in serious trouble after being surrounded in the Belgian city of Bastogne. The German objective is to take Bastogne, weaken the Allies and reach a key port for military logistics; however, the already worn-out paratrooper division has much to give to stop the German attack and send them back to their country.
---
Re-write of the story of the same name. This time, there'll be only one P.O.V and a different introduction, but with a similar plot. And, please, be gentle with this story; first, read and then judge it.
Chapters (1)