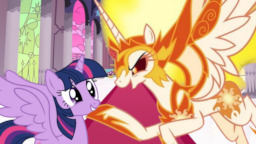 Banished to another reality by a vengeful Starlight Glimmer. Twilight ends up in a near copy paste version of the Equestia that she knows and loves…with one small difference, she doesn't exist. Twilight played a huge role back in her Equestia. So what would happen to an Equestia that ended up losing its saviour years ago?
Attempting to figure out what makes this reality different from the one she was born in and what happened to the original Twilight Sparkle. Twilight tries to reunite with those that she was closest to and find a way to replicate Starlight's spell to return back home. However things won't be as easy as she had originally thought.
Though after spending time in this version of Equestia, making friendships and finding love. Will she really want to go back?
---
Note: The 'Other' tag is used for the character 'Daybreaker'. More tags will be added later throughout the story when required. If a tag should be there though isn't, please let me know and I will rectify this mistake.
Chapters (1)