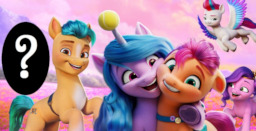 According to legend, a magical dias tuned to the Elements of Harmony rests in the fabled city of Griffinstone. If the six Bearers stand there during the Summer Solstice, it will summon the spirit of the Guardian of Magic, Princess Twilight Sparkle.
Sunny believes she and her friends are the new Bearers, but they're missing the Element of Honesty. It isn't Sunny, because she hasn't told her friends the real reason she wants to perform the ritual...
---
An entry in the G5 Bingo Contest, for the random prompts of Sweets, Sugar Moonlight, New Princess, Griffonstone, and Unicorns.
Chapters (5)