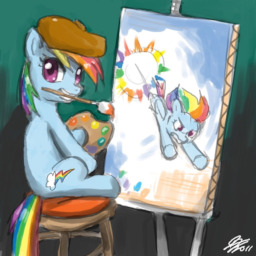 Source
The requests come in, the paintings go out, and the Bits arrive later. That's the shaky system "Rainbow" has managed to work out for herself. A life lived through letters is a little lonely, but she can at least be certain she'll never be seen by someone who recognizes her copypasted face.
You'd think a Rainbow Dash replica would remember that Twilight uses Spike for everything mail related.
---
This is an entry in the Snippet Series, an anthology of old oneshots that I (and my good buddy Str8aura) wrote based around interesting pics I found. New ones will be posted every Thursday for the foreseeable future.
Chapters (1)