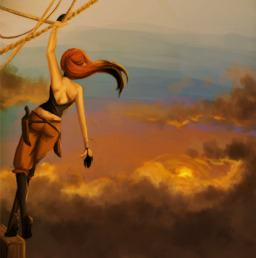 Source
Thera: an alternate Earth that suffered a hundred years fighting the Great War, survived two Xeno invasions, several incursions from other dimensions and terrorised by traitors who were responsible for most of their current woes. Due to shortage of manpower, The Inter-Universal Volunteer Army (IUVA) was formed by the League of Nations of Thera to defend Humanity's Homeworld from Galactic threats, inter-dimensional invaders and to avenge the Billions lost by the traitors and their Xeno benefactors.
---
After receiving a tip from their benefactors that oversee the multiverse of a possible Traitor cell and a reality breach, a Division of Volunteers were sent to a world full of magic, mythical creatures and...... talking equines.
---
A rewrite of The Soldier and his Rider, Thera Victoria! takes our heroes to distant lands as far as the Heartland of a war-torn world to the peaceful town of Ponyville. Forging cooperation, friendship and comradery between two worlds.
Based off of my Fictional Nation in Stellaris.
Art from: https://www.deviantart.com/aninael/art/Airship-138031221
Chapters (1)