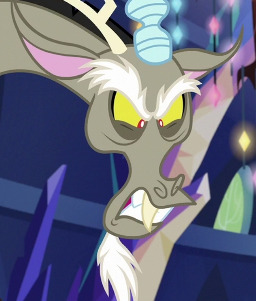 Source
Quick to fall victim to boredom, Discord wanders around Ponyville, waiting for Fluttershy.
Having to put up with everyday ponies that weren't Fluttershy was making Discord fear he would fade away again at the rate he was going. That is, until a newcomer trots into Ponyville.
Ever the opportunist for causing chaotically fun times, Discord intercepts the new source for his entertainment. However, Discord was not prepared for this new kind of tourist.
Chapters (1)