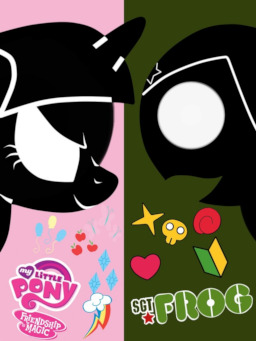 After being ordered to do so, Kululu creates a portal to other world. Keroro specifically said to create a portal into another dimension or universe, so then he can teleport Natsumi there for a while so that he can be free of chores and bruises.
But unfortunately, they all get teleported to a different world that they have never seen before.
These evil frogs have no idea what they are getting into.
But neither do the ponies. As they get teleported into the world of the frogs.
Its an epic adventure staring the friendly ponies and the most evil diabolical frogs as they cross each others worlds.
Chapters (1)