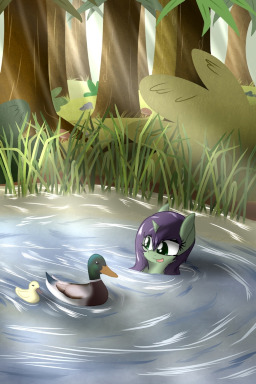 Source
Romance
Slice of Life
---
When Gaberdine is awarded a noble title by Princess Celestia, he soon finds out that his new lands contain several surprises. For starters, there is no land in his new barony. Secondly, his new castle turns out to be a broken-down riverboat. And third is… seaponies.
Baron Gaberdine has a lot to learn about his new barony. And himself.
Fortunately, he has a very young teacher.
Now with a sea-quill (sorry) Drifting Down the Lazy River
Cover photo by PhoenixSwift
Editing/Pre-Reading assistance by Tek, Shaleclaw, Peter, Seether00, Monsieur Connoisseur, GhostOfHeraclitus, The Masked Ferret, Blue Paladin42 and Admiral Biscuit
Note: Unlike The Traveling Tutor and the Librarian, this is a single POV love story, like Changelings, Love and Lollipops. Only with fewer cannons and fountains.
Now Featured on Equestria Daily
With a YouTube Reading of the first chapter by BigAsh
And with a dramatic reading of all the chapters by Neighrator Pony and company.