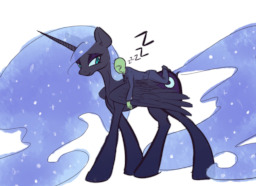 Source
2nd Person
Comedy
Human
Random
---
Rated T for Teletubbies
Frustrated screeching.
Featured: 05/25/2017
You're Anon, the sole human of Equestria. You've been living there for, er... you can't really recall. A year, two maybe? Anyway, every year, from what you've gathered, there is one day. One goddamn day that really pisses you off. The 'Summer Sun Celebration' comes around every (your time) August 16th, and it is literally the longest day of the year.
You would have no problems with this—if only it didn't start at four in the fucking morning.
This year just seems to be extra against you; an evil deity that's been banished to the moon for a thousand-so years decides to come back, and boy is she a bitch.
Try sleeping through that, asshole.
---
What have I done.

Enjoy!