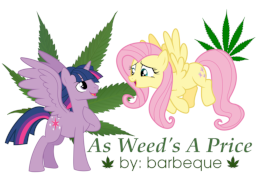 Comedy
Romance
---
Twilight writes a prompt-based story. The prompt is 'Weed'.
Written for the Twishy August Dual Contest. Title is a wordplay on the prompt "A Sweet Surprise".
Editing by Sharp Spark. Preread by equestrian.sen. Cover is a combination of art by zomgmad, Wicklesmack, ZuTheSkunk (for Dusk's wings) and various public domain weed vectors.