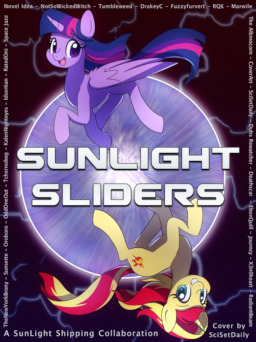 Source
Adventure
Comedy
Random
Romance
---
The first-ever SunLight Shipping Collaboration Story!
---
After Sunset Shimmer brings Sci-Twi's strange magic-absorbing amulet back to Equestria, Princess Twilight Sparkle has a brilliant idea. If they combine the amulet and the magic of the portal, the two of them could hop between worlds at the push of a button!
Who better to test out this fantastic new technology than two of the greatest minds in all of Equestria?
They probably should have calibrated it first.
---
SunLight Sliders is the result of the Sunset Shimmer community's epic three-month collaboration project, where each author had three days to write a 500-1500 chapter in the ongoing saga of Sunset and Twilight Voyaging through the multiverse! Every author picks up where the last one left off... giving us one crazy journey in space and time!
---
Featuring the Talents of:
SciSetDaily/Little-Tweenframes
---
Cover Art by the Astoundingly Amazingly Awesome SciSetDaily
Cover Text & Section Break Design by Novel Idea
Twilight Sparkle Cutie Mark by Intbrony
Sunset Shimmer Cutie Mark By Millennial Dan
---
Editor Credits
Novel Idea - Lead Editor & Project Organizer
Ebon Quill - Audio Director & Quest Designer on The Manehattan Project
Little Tinker - Master of Systems at Poniverse & Scripting Engineer on The Manehattan Project
Beltorn - Commenter-at-Large on FimFiction
Special Thanks
To the entire Sunset Shimmer Group and all the commenters who embraced the madness of this crazy journey!
Tchernobog for constantly answering Novel's annoying questions about this exercise in lunacy.
The AppleDash Group for "At the Drop of a Hat" the original inspiration for this project!
Fahrenheit for his invaluable assistance in wordsmithing that fantastic synopsis and elevator pitch!
Word Count: 41,000
Version: 10.5