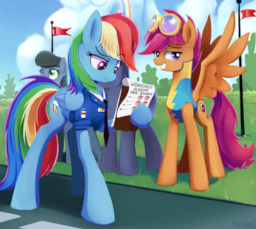 Source
Alternate Universe
Drama
Romance
---
Scotaloo and Rainbow Dash are finally set to tie the knot after a romance decades in the making, but this older, different Rainbow Dash is not the one you know. She has suffered and aged much, unlike her younger more youthful lover.
From a prompt by Superfun
"Rainbow Dash and Scootaloo get married in the future.
Everyone is happy for them."
I of course couldn't let them be too happy. Not before a healthy dose of drama.
(Also a word of warning these prompts are done in one sitting with barely any editing, you will see errors, there will be many. Yes I will fix them eventually however not untill I have finished the prompts.)(Also there is a single sort of swear, other than that it is pretty much rated E.)(P.P.P.S This cover art is not perfect but close enough to portray what I want, if you find one that fits better lemme know below.)