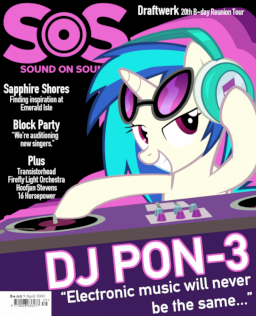 Source
Comedy
Slice of Life
---
Vinyl Scratch, the mare behind DJ PON-3's purple shades, is boldly exploring new frontiers of electronic dance music. Meanwhile, Spilt Ink, music critic for Sound on Sound magazine, is just as boldly exploring how far he can stick his head up his own rectum.
Trace the trajectory of one mare's career—and one stallion's sanity—through this peek into the music world's sordid underbelly: the album reviews.
---
This story can be enjoyed on its own, or as a companion piece to Octaves, by JapaneseTeeth. Basically, JT asked me to help with the music reviews in one chapter of his story. I enjoyed writing in the voice of a stuck-up indie music critic so much, I couldn't stop myself from writing more, and then this story happened.
Big thanks to my pre-readers:
War877
Cover art kludged together by yours truly. Vinyl Scratch vector by hfbn2. Sound on Sound logo is a parody of the Consequence of Sound logo.