Search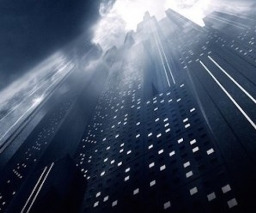 Horror
Thriller
---
(Not just psychological horror this time)
Minted Wrap, mute because of underdeveloped vocal cords, works as a janitor at the innocuous Solar Plant Industries headquarters. He ends up trapped by a force in flux warping the building's floors while trying to kill him, trap his soul, warp his body, twist his mind, and a multitude of different things. What's worse is that an outside force has entered the building at nearly the same time and have confused the janitor for one of the monstrous abominations spawning in the warped construct. All the janitor can do now is try to leave the building without undergoing fates worse than death.


Comedy
Equestria Girls
Romance
Slice of Life
---
Perhaps life is stranger than fiction, as Sunset will learn one day. Recently told to go and make some friends by her teacher, she finds a small filly who is playing with a box and a doll. Weird right? Sunset's not much of a babysitter, but she will soon find out that the world has a curious way of catching up to her.
Comedy
Human
Slice of Life
---
In area 62 they were experimenting with genetics's and dimension with the hope to br able to bring back a dead dragon from another dimension in order to make a dragon-human hybrid. With some progress in both categories they where able to succeed and use its genetics to make a dragon human hybrid who, more times than not, is pulling stupid pranks that cause set backs. But shes one hell of a sniper with her dragon eyes. But then one of her pranks goes too far and causes a melt down that sends her to Equestria. Only things are not as they seem as she learns that humans are often killed or turned into ponies to keep the public from panicking.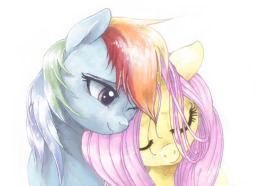 Romance
Slice of Life
---
While waiting out a windstorm in a sanctuary pine, Fluttershy and Rainbow Dash share a tender moment.
Featured Sidebar 5-26-2017

Gore
Alternate Universe
Crossover
Dark
Drama
---
There exist creatures of evil and bloodlust that stalk Equestria in the night, trapping those unfortunate enough to become their prey. Protecting the kingdom is Luna, now the only remaining ruler of Equestria. She has entire armies at her disposal, yet they pale in comparison to her greatest weapon: Nightmare Moon, a powerful creature bound to serve her for eternity.
To deal with these dark threats, Luna has the assistance of not only her loyal servant, but the famed Pegascariot, and her mysterious butler who wields a powerful magic able to slice a pony apart.
But things may become even too large for her, when gruesome attacks begin to rapidly spread through the kingdom, faster than she's ever seen. Unfortunately, the cause may be more terrifying than anyone expected. An ancient creature has been hiding in secret after his supposed destruction, plotting to throw all of Equestria into war….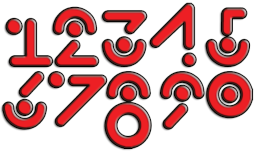 Gore
Adventure
Alternate Universe
Comedy
Crossover
Human
---
This story is a sequel to
Yu-Gi-Oh! Friendship is Magic
---
Also a crossover with the now non-existent The Guardian of Equestria by David-ism
_____________________________________________
After a strange incident, a drafter from New York named Eli and 4 shady Number hunters arrive in Equestria around the same time as the members of Lamss, who are visiting Equestria to compete in the 3rd annual EFDC. When the others learn of Eli's true identity, it's up to him, the members of Lamss, and their pony friends to stop the Number hunters from stealing all of the precious Numbers. However, something more sinister surfaces that threatens all of Equestria...
________________
This story was originally written between January and May of 2012 on Pony Fiction Archive back when I had no clue how to format my stories nor properly play Yu-Gi-Oh!. When I first joined the site five years ago, I also sought to release this story as well, but decided against it after seeing the initially negative reaction.
I did my best to salvage what I could for a quick haha and to commemorate my fifth year on the site, but yes, this is what I was writing before FIMFiction saved my ass into helping me become the borderline mediocre author that I am today.
Try to enjoy; it will be a challenge.

Gore
Crossover
Sad
Slice of Life
Tragedy
---
A Monster, a Demon, an Abomination.
How far does the Princesses go to keep these beings at bay? And... what happens when they are wrong? How many lives are disrupted?
Not everypony knows, but, as they say, Monster is as Monster does.
This, is the life of one such pony.
A pony in the wrong place, at the wrong time.
A pony, who is a victim of other's ambitions.
This. Is the story of, Arcane Quill
-------
So... I made a thing.
This is set in the same universe as: 'Monster is, as Monster does.'
But, you can read this without any knowledge of the other.
So, this is kinda a crossover with Prototype,
(Which I don't own.)
If you have the time, I would love to read any criticism you have (As long as it is collective.)
Other than that, go check out these lovely people who have stopped me from making a fool of myself:
------
Warnings:
[Rated Teen for mild gore and language]
More will be added as nessasary.