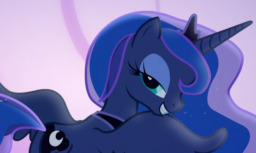 This story is a sequel to Cuddle-Your-Own-Celestia
---
You are a royal night guard in Canterlot. You were just promoted and given a new post, which has been really nice. However, you do have a teeny, tiny little problem:
You have a massive crush on the alluring Princess of the Night...And you're going to have to do something about it!
In this Choose-Your-Own-Adventure story, you make the decisions, you are responsible for the consequences, and many possible storylines await! This is the spiritual successor to Cuddle-Your-Own-Celestia.
Depending on the path you take through the story, may contain heavily suggestive content, mild sexual humor, and/or what *may* be construed as dubious consent.
EDIT: Featured 5/30/17- Thanks so much, everypony!
Chapters (59)