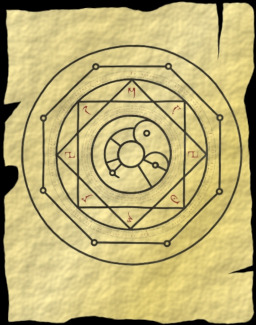 Before the reign of the Regal Sisters, a pony gazed into the abyss and lost her sanity.
In her madness, she was granted foresight and issued a prophecy that told of the reign of two sisters up to the creation of a gate to the void, the existenceless abyss her insanity and power came from.
More than a thousand years have passed since then. The Equestrians have forgotten about the prophecy and the cult that the mad seer has sparked is all but gone. Only a single follower remains, perpetuating a disputable "gift" passed throughout generations.
Finally, the stars are right and the Princess of the Night returns, starting a series of events that culminate in the ascent of a pony whose magic might be strong enough to breach the boundaries of her dimension.
Now all the demented cultist has to do is to get her to do just this.
---
Takes place during the second half of the third season. For the most part, at least.
Should not directly contradict show canon. Apparent contradictions are either intentional and will be eventually resolved or errors on my part.
---
Shout-out to Cygnia for being my lovely preliminary reader.
If you find grammatical errors, please point them out so I can exterminate them.
Chapters (17)