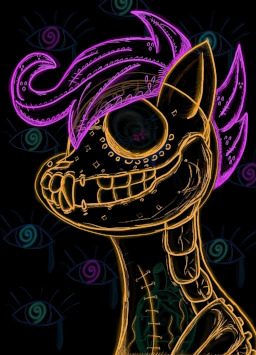 After learning of Fluttershy's bat like nature as well as he skills as a Scare-master, Scootaloo decided to become the bat pony's apprentice. Now she has decided to perform a live stream on Hitch and answer some of your questions.
What could possibly go wrong?
---
Warning! This story contains: Spookiness, spoopiness, Fluttershy as a bat pony, Hitch streaming (ponified Twitch streaming), dead apples (the fruit not the Apple family), hypnosis, tentacles, monsters, spider Angel, elements of grief and death (yes, somepony is dead... But who?

).
I created this story for Nailah's Halloween Contest. 🎃

🎃
Initially I wasn't sure if I'd be able to finish a story in time for the contest and while Nailah did later extend the deadline to after Halloween, it just didn't feel right to me to not release the story on Halloween. So, hopefully this story will still be pretty good despite being somewhat rushed.

The questions in this story were from a blog I had posted as well as a Discord group that I am a part of.
This story was also partially inspired by this video, or at least some ideas I had from watching it. Go ahead and take a look.
---
Proofread by: NiCkY.
Cover Art created by me.

Chapters (1)