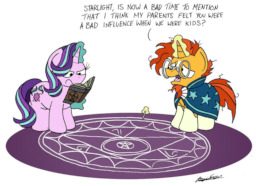 Source
Starlight and Sunburst are roommates. Shenanigans ensue. Shenanigans with a body count.
Thanks to Tired Old Man, Nova Quill/Firimil, and
Steel Resolve for there edits and suggestions. Especially Nova who may have accidently prompted me when she compared a certain purple unicorn to a certain hat wearing Llama.
Finally, thanks to BobTheDalek for his great work on this piece and just in general.
Chapters (2)