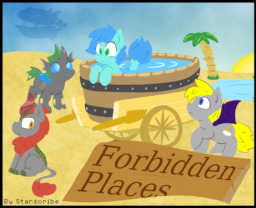 Blake and his friends are urban explorers, venturing into some of the most interesting places that the public isn't allowed to see. They deal with dangerous structures, poison gas, and even the occasional arrest. But when they venture into the bony catacombs of Paris, they could never imagine what they'll find waiting for them.
Now the whole group has been thrust from the world they knew, each one cursed with a terrifying new shape. If they ever want to see their home again, they'll have to work together, searching this strange new world for a return worldgate. But while return portals are numerous, finding one that's safe enough to get them back alive is another matter entirely.
---
Written thanks to the generosity of donations from Lightfox and Canary in a Coal Mine on my Patreon. Edited by my wonderful team of Two Bit and Sparktail. Cover by Zutcha.
Updates every Monday and most Tuesdays. Will update more frequently until Fimfiction catches up to my Patreon.
Chapters (85)