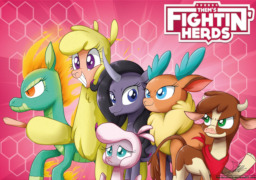 During a festival in Equestria Pinkie Pie accidentally destroys a gypsy's home and in revenge she curses her. But her friends will pay the consequences of her mistake and now Pinkie, with the help of her sisters has to find a way to break the curse.
A crossover between My Little Pony and Them's Fightin' Herds.
Cover art by The-Butch-X.
Thanks to forestpip and Night_Shadow12 for the editing!
Now rated T for some allegories and allusions.
Chapters (4)