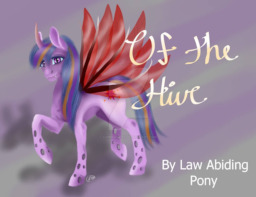 Source
In the wake of Chrysalis' failed invasion, a different hive breaks tradition and steps into the light to open relations with Equestria. The ever eager scholar, Twilight Sparkle, uses this truce as the perfect opportunity to learn more about this enigmatic race. Unfortunately, or maybe fortunately, she will learn all there is to know about what it means to be a changeling.
But will Twilight lose herself in the hive, or will she regain what she has lost? Only time will tell.
Featured on 9/24/13
My first featured story! You guys are awesome.
Story readings and cover art by Luminescent Skies: Click here for some audio novel treatment
My Editor in Chief: Cloud Hop
Chapters (11)