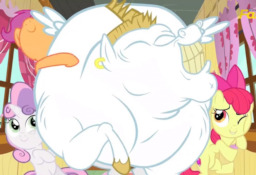 Bulk Biceps is a big stallion. Very big, needs double doors or a wide berth big. He also has a problem with his cutie mark that needs solving.
The Crusaders are more than eager to help, but they have a problem to tackle first: how to fit his girth inside their pretty pink clubhouse.
Rated T for overly gratuitous sexual innuendo.
Chapters (1)