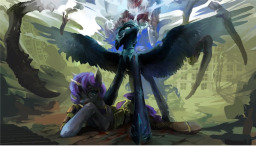 Source
A thousand years ago, my Princess showed us that there's a chance we can survive, even after everypony else in Equestria died. The griffon army is at our doorstep, as they have been for as long as anypony can remember, and yet my Princess insists upon her secret projects, and there's something more. Something bigger that she's keeping secret.
What else is she not telling me?
---
This story is the sister story to Children of the Sun, but both can be read independently of the other.
---
Coverart drawn by the incredibly talented Kai_KAMOI!
Thank you to my brilliant prereaders and editors: Axolu, Holtinater, Haphazred, AFanaticRabbit, Draconequues, Dioxin, Lofty Withers, Cynewulf, Red Parade, Vis A Viscera, Bill Cipher, Ruby, Flashgen, Moonshot, Luna, and to everyone that's supported me throughout the 3+ years of working on this fic and its sister fic.
Thank you especially to Zontan. Your help has been invaluable with this fic, and I appreciate all you do for me.
Chapters (2)