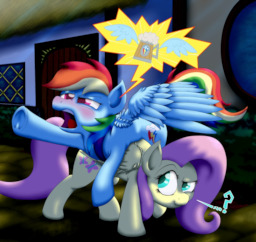 Source
Alcohol can do all kinds of funny things to a pony. It can give courage, make you crazy talkative, or even super quiet. It can also lead to accidents, such as crashing into your fillyfriend's backyard.
Friday night is a time of fun and drinking for many in the Ponyville weather team. When some surprise faces show up for drinks, will Rainbow Dash's resolve to cut back on her drinking hold firm?
Set pre-Rainbow Dash joining the Wonderbolts.
Chapters (1)