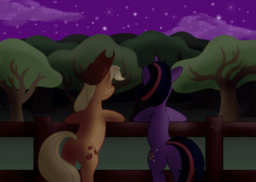 Source
This story follows Bridges and Guides, but it can also stand alone nicely.
---
After their first Grand Galloping Gala, Applejack and Twilight talk about the Blueblood disaster, and about Rarity's expectations for a partner. The discussion meanders into new territory, and gets a little personal for both of them. Initially written as just a fun little one-shot.
(Chronology note: this story takes place between seasons one and two, just after the season one finale.)
(Content note: relationships and sexuality / asexuality are discussed briefly, but that is all. Personally, I don't really think it needs to be marked for teens. I just did so as a courtesy, to avoid treading on any sensitive nerve endings.)
Artwork by Sixes_and_Sevens. Please check out their excellent artwork and stories.
Part of the Elsequestria Continuity.
This continuity continues in In Vino Veritas.
Chapters (1)