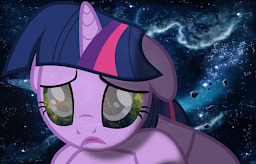 Twilight Sparkle was almost ready to take her place with Celestia as a princess of Equestria, but everything went wrong; the spell she used ended up blinding her. Never again will she see out of those eyes, once a beautiful violet; now dull, grey, and lifeless. How will Twilight adapt to her new life and deal with her new disability?
Editor: Bringer of the Ends
Image: it was suggested by my editor so I Photoshop the image to look more Like Star child
I am in need of a proof reader, if anyone would want to apply for that position give me a PM, just know that these chapters sometimes slow down because of numerous things, university, other stories and yada yada.
Chapters (7)