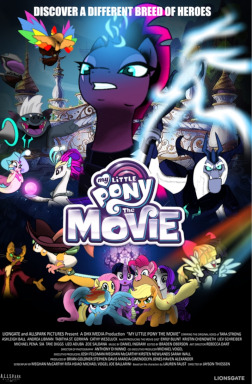 Princess Twilight Sparkle has set up the first ever Friendship Festival in Canterlot. With the help of her friends she is sure it is to go off without a hitch....
Until the celebrations a ruined by the arrival of the ruthless Storm King, a warlord who has conquered the lands South of Equestria. He has come for the very magic of Equestria.
Twilight and her friends escape and must journey outside Equestria to find help to take back Canterlot. They must face all kinds of danger from unfamiliar strangers as well as the Storm King's forces who are hot on their trail.
A retelling do the events of the movie using concepts from the movie's Art book and tie in media.
The cover picture is My Little Pony the Movie fan poster 3 by Deviantart user EJLightning007arts which was used with permission.
Chapters (1)