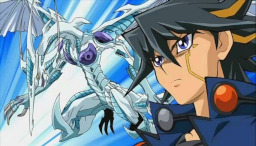 After saving the future from Paradox, Yusei prepares to return to his own time. But when the Crimson Dragon veers off course in the rift, Yusei finds himself in a strange new world... populated by brightly colored talking equines. Yusei meets Twilight Sparkle and her friends and becomes their friend as well, even teaching them how to duel. But something isn't sitting right with Yusei and he soon learns why he was brought here when an ancient enemy reappears and goes on a destructive rampage.
This is my first attempt at pony fanfiction, though not my first try at writing in general. I have no idea how this is gonna go, but be honest.
Regarding the duels: I intend to describe the actual gameplay just as much as the monsters and card animations. I'm not just a fan of the Yu-Gi-Oh! franchise, but a Duelist myself. As far as the rules go, I'll try to help the unfamiliar understand the game in the beginning. Card and player stats will also be displayed during the duel portions of the story (I'll try and write it so that they don't disrupt the flow of the story too much). But beyond the stats and character descriptions of their cards, you'll have to look stuff up yourself. You can do so on the Yu-Gi-Oh! Wiki.
DISCLAIMER: My Little Pony! Friendship is Magic, all Yu-Gi-Oh! characters, and the Yu-Gi-Oh! Trading Card Game are copyright their respective owners. All original story elements are mine and may not be reproduced without my consent.
Chapters (14)