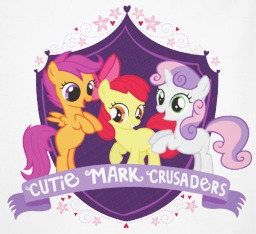 The colts, Dusk, Elusive, and Rumble have been friends for years. Everything is looking good for their usual guy time fun, but when three fillies they've known for years as the Cutie Mark Crusaders crash into their lives they find themselves changed. What will become of the CMC and the three colts? Only time will tell.
Marked Sex for inuendos and situations.
(A note for new readers, first off thank you oh so very much for looking at my fic. Secondly, Dusk and Elusive are not Rule 63 Twilight and Rarity, I had thought up the names before I knew of r63. That's not a "I had it first" thing I'm only pointing it out because I have gotten many comments about it.Thank you so much again for reading, have an amazing day!

)
Chapters (12)