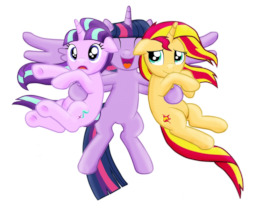 Sunset Shimmer is coming back to Equestria. Unbeknownst to her, Twilight Sparkle has a new pupil, one that she hopes she'll become fast friends with.
Unfortunately, Starlight and Sunset have a better idea.
---
A collab with the amazing Flutterpriest. You should definitely go check out his other work, he's amazing!
Take this story seriously at your own risk.
Chapters (1)