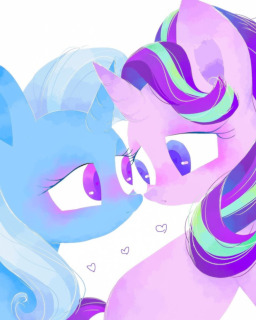 Source
Starlight did something bad. Really bad.
It was just a single moment, a single lapse of judgment. In the heat of that second, she tried to kiss her best friend.
That was three days ago, and she hasn't seen Trixie since. Before that attempted kiss, she'd looked forward to seeing Trixie at Twilight's Hearth's Warming party, but now that it's here, she dreads it. She's going to have to say a lot of the right things if she wants to keep the best friend she's ever had.
Provided, of course, that Trixie even shows up.
---
Written as a gift for libertydude, my contribution to Jinglemas 2018.
With thanks to FamousLastWords, ChappedPenguinLips, and B_25 for their help.
Chapters (1)