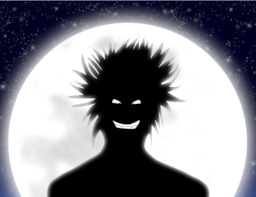 Jim Douglas has a problem. He's suffered, since birth, from a curse that was given to him by his father. He learns of a land, one filled with magic and possibly the means to cure his ailment. That land is Equestria. It is difficult to get there, but under the right conditions it is possible to enter the mystical world of ponies. Once there, Jim learns there are worse things in life to experience than curses.
~~~~~~~~~~~~~~~~~~~~~~~~~~~~~~~~~~~~~~~~~~~~~~~~~~~~~~~~~~~~~~~~~~~~~~~~~~~~~~
This story was a random little idea that sprouted over the Halloween holiday. I know it might not be the thing for some readers, but I still felt the need to get it written and put out for anyone interested.
A few spoilers for the curious--> This is a werewolf story. Therefore, the Human tag has been placed as it's kiiind of mandatory for this odd little genre.
As of February 2020 story status is bumped out of Hiatus. I'm going to try to get more writing done, but don't expect chapters too often.

Chapters (39)