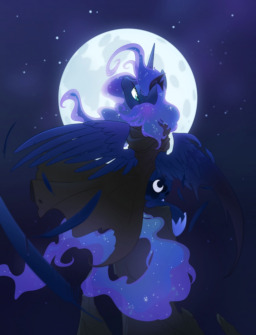 A thousand years ago in Equestria, Luna's frustration and desperation has been building for years and years as her social and political isolation grows, but just before Luna's jealousy and resentment can turn into murderous hatred against her sister, a new event triggars Luna's mental collapse and pushes her over the edge. When Luna by circumstance finds herself alone in Celestia's room she reads her sister's diary out of curiosity and discovers all of the disparaging criticism that Celestia has leveled at her over the years about how much of a nuisance Luna has been to her, but has been too polite to say directly to Luna's face.
Luna and Celestia had always supported and stuck with each other all their lives. Even when the common-ponies critisism and shunning of her was at its worst, the knowledge that her sister loved her kept Luna going. The realization that nopony, not even her own sister valued her or thought she was fit for the throne completely shattered whatever remained of her fragile psyche.
And so Luna just gave up...
She gave in...
If no one wanted her there...
Then she wouldn't stay there...
She would leave.
Chapters (22)