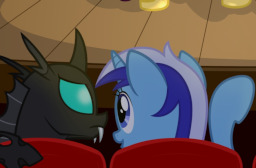 Source
On the edge of Equestria, the ponies had managed to befriend a small colony of changelings who only wanted to coexist peaceably with their colourful neighbours. To assist in the endeavour and help them find their own culture, several pony facilitators have traveled there to help train them in creative pursuits and the arts.
At Rarity's behest, Twilight was determined to bring the power of theatre to the benign changelings, but disaster has raised its ugly head on the day before they're scheduled to perform. Can the matter be resolved, or will they be forced to cancel the musical and go home defeated?
-
Written for an art jam to accompany a drawing, (cropped) cover art by myself and Jr.
Thank you to Handyman for proofreading.
Chapters (1)