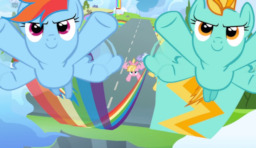 Rainbow Dash was always concentrated on getting better, faster, more agile. She never had time for stallions or mares, and both mind and body complied.
But you can't help who you fall in love with. It was just unfortunate for her that the other pony had to be Lightning Dust, and their friendship would shortly thereafter be forever severed.
Written for F* This Prompt #12: 'Rainbow Dash is a lesbian'. Thanks to Majora for proofreading.
Chapters (1)