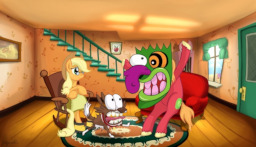 Source
Contains ponies that stand on their hind legs.
We bring you Winona the Cowardly Dog! Abandoned as a pup, she was found by Applejack, who lives in the middle of nowhere (Well, Ponyville, but there's no real difference, is there?), with her brother: Big Macintosh! But creeeepy stuff happens in Ponyville, and it's up to Winona to save her new home!
---
For those that don't know, this is based on Courage the Cowardly Dog.
Chapters (4)