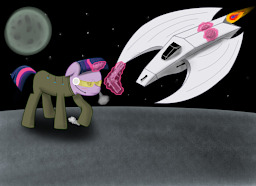 It had been one year since Twilight Sparkle vanished in the battle against the evil unicorn Xander, and her friends were still trying to overcome the grief of losing her. On the anniversary of her presumed death, her friends gather at her memorial. What was suppose to be a day of remembrance was shattered by a strange metal object that landed right beside them. Their anger quickly turns to shock as a familiar unicorn emerges... and boy does she have a story to tell.
Rated Teen for violence, language, and sexual content. Rating and tags may change in future chapters.
This is not a Halo fic. It IS however loosely inspired by Halo as well as Star Wars, Mass Effect and several other sci-fi movies, books, and games.
Edited by Jack-Pony, HuskSummers, Coldwall, and sadron
Cover art by Sonic Rain
Chapters (59)